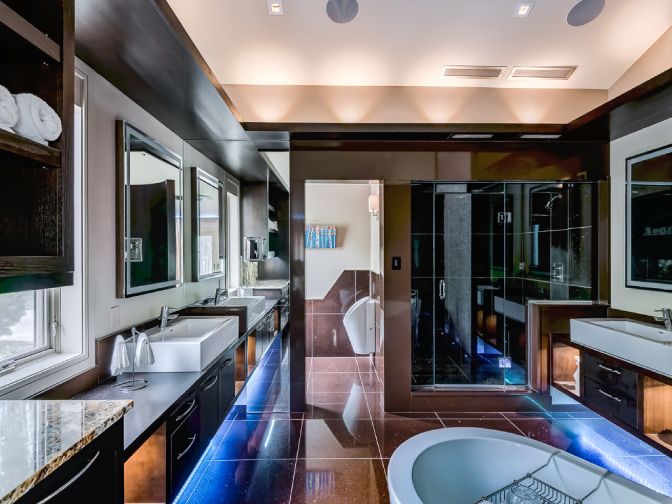 Architectural Considerations for Fully Integrated, Smart Home Residential Projects
The thoughtful application of technology has dramatically simplified our lives in countless ways. Whether it is using your Bluetooth while driving, listening to your wireless headphones on a jog, or monitoring your baby from another room, technology has continually increased the functionality and enjoyment of our lives. Smart homes are the next frontier. What used to be considered futuristic, or something from the Jetsons, is now actively available to homeowners, and if properly implemented, smart home technology has the potential to simplify life, allowing you to enjoy what matters most.
Architects are specially trained in the science or art of building design and planning. Traditionally this has meant that they take the inspiration of a homebuilder and develop concepts and plans for building a home. In reality, their role is far more extensive and includes being an advisor to the homeowner and builder throughout the building process. An architect should be your brain trust when it comes to design and your advocate when it comes to implementing the specifics of a project. Increasingly, architects are considering the realities of home technology and integration, or smart home technologies, from the outset of their projects. If you are an architect or are working with an architect on your next residential build, this guide is for you. Keep reading to learn more about the essential considerations and opportunities that are available to architects when it comes to a fully integrated and automated residential project.
How to Design and Plan for a Fully Integrated Residential Project
Taking on a new residential or home build is an exciting opportunity to start fresh and think differently. What will this new residential property look like in five or ten years? How can you add value to the home in the planning stages? One of the best decisions you can make when working with your architect and designer is to plan for your technology needs from the very start. Very often homeowners find themselves in the situation where they are forced to make awkward or aesthetically disjointed decisions to allow for technology integration in existing homes.
At Insight Automation International we are experienced and committed to working with architects, designers, and builders to ensure technology integration and smart home technologies are taken into consideration from the outset of the project. Smart home technology is a broad term applied to the incorporation of computer technology, control systems, image and video displays, light designs, security systems, and network requirements. In order to integrate this technology and optimize the smart home experience, architects, designers, and homebuilders are required to ensure the appropriate wiring and network solutions are considered in the initial planning stages of a build.
When planning your next residential project, homebuilders, architects, and designers, should all be considering the impact of the build on the lighting, motorized window treatments, audio capabilities, video capabilities, security functionality, HVAC controls, and networks. To learn more about how Insight Automation International can support your next residential build and planning process, contact us today.
Light Design and Architecture - What to Consider?
Lighting design is our passion at Insight AI. We love to set the mood, emulate natural lighting, and provide functional solutions through lighting. We partner with some of the best in the business at Lutron and Control4 to create innovative and creative solutions for your lighting design. More than just designing lighting, we are also committed to ensuring that your lighting is easily controlled and user friendly. By integrating home automation technology into your light design, changing the mood, or creating a false occupancy, (or 'moccupancy'), is as easy as the click of a button! To learn more about how we can support your next residential light design project, Lutron and contact us today.
If you are working with an architect, designer, or homebuilder on your new residential project, keep reading to learn more about 10 things we recommend you ensure are being considered regarding light design:
Light brightness and distribution: Ensuring that the lighting in your new residential property is evenly distributed is essential. We all love natural lighting but understanding how your internal lighting will be impacted by cloudy days and bright summer evenings is important. Not only will these considerations impact the brightness in your home, but they will also have an impact on the temperature and consistency throughout the home.
Energy efficiency: older bulbs are extremely inefficient and often give off 90% of their energy in the form of heat. New technologies such as LED light bulbs will help to ensure your lighting is as energy efficient as possible. LED technology will last longer, can be used on a dimmer, and run cooler.
Appearance of the Luminaires: Luminaires are the variety of light fixtures in your home. These luminaries can offer incredible style to a room and are an essential element of interior design. While they can act as design elements they should also be considered for functionality and spacing. Luminaires include direct and indirect fixtures, potential under-cabinet lighting, wall wash lights, and task lighting.
Screen Glare: Whether you are building a home with a world-class audio-visual system or just hanging a TV on the wall, you need to ensure that your lighting will not impact your viewing experience. Impacting more than just TVs, home office screens, and even mirrors should be considered when planning your residential light design.
Light v. Colours: Did you know that there are varying colours emitted from different light bulbs? You may have heard of soft lighting, yellow lighting, white lights, black lights etc? Residential properties must consider the colour of lighting in contrast to the interior design of the home. Additionally different lighting colours will have varying impacts on the occupants of the home.
Faces: Directional lighting and the light fixtures that allow you to alter that directional capability are what impacts the faces of the light. When you change the direction of lighting you create effects, shadows, focus, and direct the eye to specific things. Light faces and directional lighting are an essential consideration for residential design.
Controls: Lighting controls can be as simple or complex as you like. With fully integrated home automation solutions such as Control4, a homeowner can control the lighting of their home from across the planet, with just the click of a button. The reality is that lighting is about more than just the flip of a switch. Lighting can set the mood, protect your family, and assist you in accomplishing tasks. The ability to control your lighting is less of a luxury and more of a necessity.
Cost: When you are working with an architect, designer, or homebuilder to select your lighting designs and equipment you should be sure to include the following elements in your budget; long-term energy use, design costs, maintenance costs, installation costs, and equipment.
Installation: Lighting installation might be something that any certified electrician can achieve. But if you are serious about ensuring your home has thoughtful and impactful lighting design, you will need to work with a home automation professional.
Ongoing Maintenance: When designing your next residential project, take into consideration the realities of ongoing maintenance and the costs associated with that. Some maintenance is as easy as changing a bulb, while some fully integrated smart home solutions will require ongoing technical support.
How to Design an Architectural Project for Technology Integration  
Insight Automation International works with builders, interior designers, architects, and other trades to ensure that every aspect of your smart home automation project is smooth, efficient, on time, and in line with your goals. If you are planning or designing a new residential build, we encourage you to speak with a member of our experienced team to learn more about how you can support your project. The best way to ensure that a smart home is reliable, functional, and aesthetically pleasing is to put careful thought and consideration into the system design and engineering right from the very beginning, especially for new construction. Here are 5 things to consider when you begin to design your new residential property:
The best locations for hardware 
The wiring infrastructure placement and requirements
Power management
Architectural integration
Aesthetics
Once you have considered all of these elements, they should be shared with all relevant contractors, builders, and architects in order to avoid costly mistakes that require rework.
What is System Documentation?
System documentation is an essential element of the planning and long-term maintenance of your smart home. By having accurate and detailed system documentation, homeowners can be confident that their smart home and technology integration is documented and that they can reference those documents at any time throughout the build or any future renovations. System documentations are useful not only before and during construction, but also for ongoing maintenance and reference once the system is complete. The system documentations that Insight Automation International completes are provided to builders, architects, interior designers, and contractors, giving them a clear idea of the exact locations and specifications of all of the technology within the building. Everything from schematics to rack elevation to locations of lighting fixtures and motorized window treatments can be included in one master plan for consistent use and planning by all parties involved in the project. With clear system documentation, you can avoid confusion and streamline processes throughout the entire project.
What Architects and Designers Should know When Wiring Your Residential Build
It goes without saying, the wiring of your new residential property is an absolutely essential component of any smart system, and it's important that the right wires go to just the right places so that your dedicated home theater, media room, entryways, kitchens, and even bathrooms are all set up for success. By ensuring the effective planning and installation of your residential wiring you will provide for high-end performance of AV equipment, networking, home security systems, and more.
In an effort to keep homebuilders, designers, and architects on the same page throughout the planning and building stage, Insight AI offers our clients a project management service. Insight Automation International has proven experience managing residential projects from beginning to end, handling the planning, organization, resource allocation, timelines, communication, and more. By establishing clear procedures for each aspect of the project and responding promptly to any hitches in progress, our dedicated project managers ensure that each project is completed on time and within budget, as promised.
Insight Automation International is eager to support your next home automation project. We have offices in Calgary (Alberta), Parksville (British Columbia), Phoenix (Arizona), and Kelowna (British Columbia), and we offer services across North America. If you are working with a designer, architect, or homebuilder on a new residential project we encourage you to call us for a consultation before you break ground. We want to help you make your next project a truly integrated design.