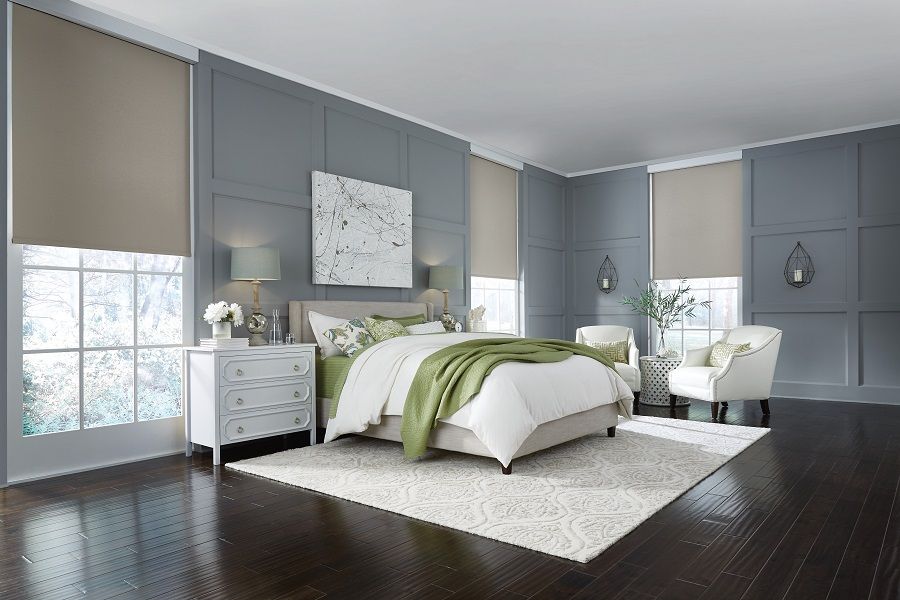 Keep Cool This Summer with Motorized Shades
There are many benefits to motorized window treatments. The convenience of never having to deal with manual cords and rods again is a commonly known benefit, but did you know that motorized shades also help to cut down on energy costs?
As summer approaches, you need to prepare for the hotter weather and the subsequently increased air conditioning usage. Save money and make your home more environmentally conscious with this smart home solution. Learn how motorized blinds and window treatments will keep your Paradise Valley, AZ or Kelowna, BC home cool while also helping you reduce your energy consumption.
SEE ALSO: 5 Powerful Ways Motorized Shades Can Transform Your Home
AUTOMATED WINDOW TREATMENT DESIGN AND FUNCTION
You won't have to sacrifice your home's aesthetic when you upgrade to motorized, remote controlled window treatments. We work with industry-leading motorized window treatment manufacturers like Hunter Douglas and Lutron to offer a variety of colors, styles, and materials so you can choose the perfect design for each room in your home.
Motorized cellular shades are arguably the most energy-efficient window treatments, thanks to their design. These shades use a series of cell pockets to trap air around your windows, keeping rooms cool in the summer. Blackout shades are perfect for bedrooms or media rooms where ambient light disrupts your sleep or movie enjoyment. Additionally, blackout shades help prevent thermal heat from warming up your home and forcing the A/C to turn on. Motorized solar shades are another great solution for energy efficient window treatments. Solar shades not only keep out heat from the sun, but they also prevent damaging UV rays from bleaching furniture and artwork.
We will work with you during every step in the process to find shades, drapes, or blinds that not only help give your HVAC system a break but elevate the design of your home.
EXPERIENCE THE CONVENIENCE OF MOTORIZED WINDOW SHADES
When you integrate your motorized shades with a smart home control system, you can command your shades from the comfort of your couch—or even while you're away from home—by using your smartphone. At home, use a voice command, on-wall keypad, handheld remote, or mobile app to lift and lower shades in any and every room at any time. You can also schedule your shades to lift and lower on a specific schedule, such as at sunrise and sunset.
When integrated with temperature sensors, you can program your shades to lower on their own once your rooms begin to warm up, preventing your AC from kicking on sooner than it needs to. No matter how you control your shades, you will eliminate the hassle of adjusting shades throughout your house all day, resulting in time saved—and saved energy costs, too!
Are you ready to cool down your home in the Paradise Valley, Kelowna, BC or Calgary, AB area for the summer while saving on energy costs? Our team specializes in custom electronics automation and control solutions and is ready to assist. We would love to help install motorized window treatments throughout your home. Reach out to us online or give us a call at (207) 985-9770.