Basement Remodeling Strategy Feeds Integrator's RMR
Lelch Audio Video uses strong marketing techniques, specializes in basement remodeling, and embraces responsive service plans to target Millennials.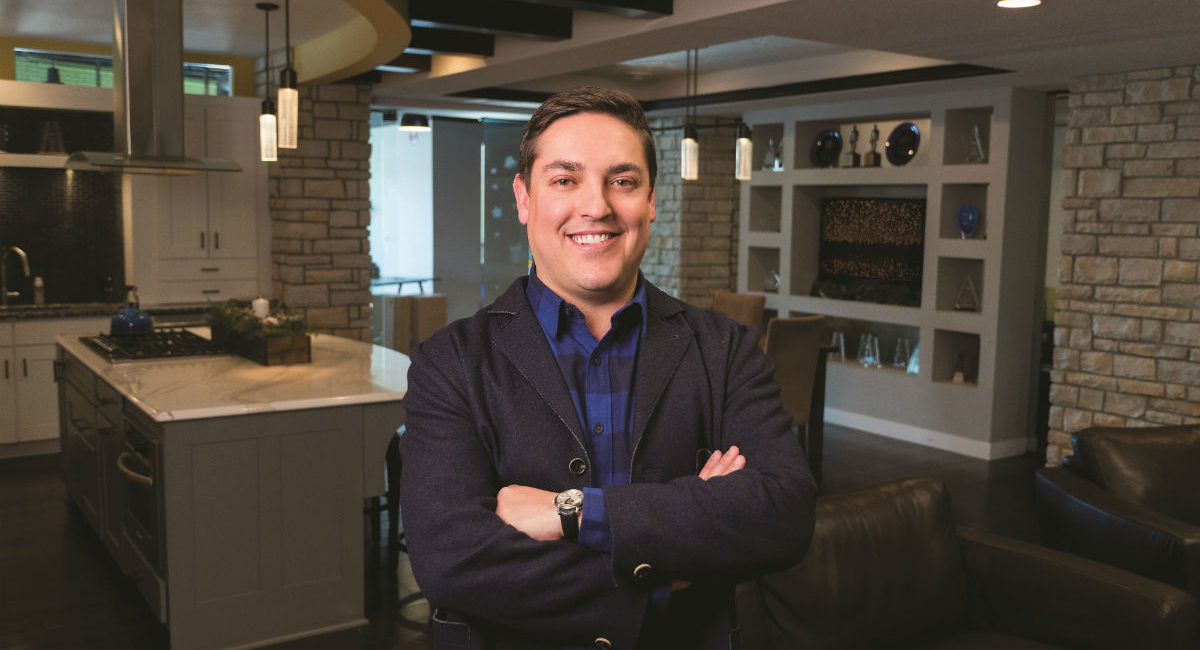 What better way for an integrator to connect with Millennial clients than to be one…or even better, have a whole team of Millennials! That's the situation at Lelch Audio Video in St. Louis Park, Minn., where the company has used its youthful talent and enthusiasm along with its creative services to grow to $3 million in revenues in just six years. Led by 32-year-old Alex Lelchuk, the company has carved a successful niche in the high-tech basement remodeling market, partially achieved by sharing a 5,000-square-foot showroom with its basement remodeling partner.
Lelch AV also has found a profitable domain in the tough area of recurring monthly revenue (RMR) using service agreements, dubbed "Technology Memberships," for its client base. The service business model is built around standardized processes that include remote systems management and a paper-free operation.
Lelchuk stumbled into the custom electronics industry the same way a lot of other integrators did — he is a tech enthusiast who started mounting flat-panel TVs on walls for his buddies. He soon realized he could replicate those TV installations and make money doing it. Not long after that, customers started asking for more than just a TV on the wall.
"Fast-forward seven years later and we've got a staff of 16 people, and operate a custom installation business offering all sorts of solutions in home automation, smart home technology, lighting control, security, audio/video, central vacuum and more," says Lelchuk, who combined his interests in sales and marketing with his love for technology.
In total, Lelch AV did about 175 projects in 2017. The integration company hits a diverse market base, drawing 70 percent of its business from residential and 30 percent from commercial sources. Of its residential jobs, approximately 60 percent are remodels.
Connecting With Millennials & More
So many custom integration companies flounder when it comes to connecting with Millennials, but not Lelch Audio Video. Lelchuk believes a big part of his success is just being genuine, which is a character trait Millennials admire.
"In marketing, a rule of thumb is that you want to try to 'own' as much of it as you can, and so we've taken that aggressive approach from the beginning. We started with low-hanging fruit, which is online marketing. Seven years ago, many dealers were not doing any type of online marketing, so we did. It was sort of a no-brainer," says Lelchuk.
The company's website is fresh and modern looking, loaded with galleries of projects, photos of the staff, a detailed explanation of its design-build processes, and a live chat function.
"In terms of how we address Millennials, we're responsive, we're fast, and we get to the point," he says. "If you really want to address Millennials, you want to make it easy to say 'yes,' and you want to remove the tedious, time-consuming things within your process. Millennials thrive on the foundation of instantaneous information and instantaneous feedback. Some of the older styles of doing things are just too tedious, and maybe unnecessary.
"But it's not all about speed," continues Lelchuk, "because Millennials are still looking to get things done the correct way. They still want it to be done right and to function. But Millennials might get turned off by something that has a really large initial start-up process."
For many other integrators, Lelchuk suggests that "slowness" isn't necessarily the tedium of getting the physical installation of the project started but more so the initial communication process — getting contacted, the sales and design stages, and taking people through those initial steps.
Today, Lelchuk says he looks for out-of-the box marketing opportunities via sponsorships and branding that can be impactful. Some examples the company has tried include getting involved in local community start-up events for businesses like microbreweries, speaking at town hall meetings on a particular topic, sponsoring the local farmers' market or sponsoring the music portion of a community kids program, like opening day for baseball.
"We are trying to find ways to involved in different events where we really become the go-to brand. It's important to understand that it's a branding perspective. You are not necessarily participating in the event because you believe the following day you will have people calling or knocking on your door. It's more of a long-term play," says Lelchuk.
---
Read Next: Selling Smart-Home Systems to Mid-Market Consumers and Millennials
---
Part of that branding play is regular communication with existing customers via a newsletter that is emailed one to two times per month. The newsletter is not a hard sell, but covers various topics of interest from defining high-res audio and control systems to the explaining why getting an integrator involved early on a project is easier than a retrofit. Other stories will offer regular tips and tricks to make their systems function better.
From a product standpoint, Lelch AV recognizes Millennials are drawn to app-based systems due to ease of use and general functionality. Lelchuk says Millennials do not need to be convinced on "why" they might need any particular technology.
"With Millennials it's a bit easier to have a conversation about controlling everything in the home. There's not really a question of, 'Hey, should I control this or not?' They want to control everything in a logical, easy-to-use format," he says.
Paper-Free Office
Lelch AV doesn't just target 21st century clients, the operation is run in a high-tech manner befitting today's generation as well.
"Process and procedure are really, really important to us, and have been from day one. It's something that we're constantly working on," says Lelchuk. "I think it drives some of my staff crazy, as I bring in different things — different software, different applications, different ideas — because I am constantly driving to do better.
"Millennials are still looking to get things done the correct way. They still want it to be done right and to function. But they might get turned off by something that has a really large initial start-up process."  
—Alex Lelchuk, Lelch Audio Video
"Lelch AV employs multiple pieces of software for just about every process including creating proposals, billing, managing inventory, generating work orders, and tracking technicians in the field.
"Everything is tracked, measured and documented," Lelchuk explains. "I've embraced trying every solution and system that exists to do things more efficiently. Efficiency is so powerful once you start conducting a significant amount of business. There's a certain point where every little efficiency and every little correction has big results."
The company is almost entirely paper-free, with the exception of blueprints. Among the software solutions Lelch AV uses are iPoint, Slack, Google Drive and the entire Google Business Suite.
Shared Showroom
One other byproduct of the close relationship Lelch AV has with its basement contractor partner is a shared showroom.
From the exterior, the 5,000-square-foot showroom looks like any commercial building. But when you walk inside, it's like you are walking into a house. The showroom is segmented into different areas. The main floor has a gallery of photos from various projects, along with a basement converted into a combination kitchen/dining room/multipurpose theater space with a bar. There are two other vignettes with examples of basement room layouts loaded with technology, as well as different types of soffits, ceilings and wall textures, that can be done in a basement.
In all, the showroom has an eight-zone video distribution system, 12 zones of audio with different speaker types, projector/screen as well as LED flat-panel displays, including the new Samsung Frame TV. The space also showcases climate control, voice control, lighting control, shade control, cameras and security, as well as automated sensors.
"When you walk into this space, you're seeing what a completed basement could look like loaded with technology," says Lelchuk.
Lelch AV's offices are located upstairs. About half of all the company's clients get to the showroom for a tour, usually made via an appointment. Less than 5 percent of eventual clients are patrons who just walk in off the street without an appointment.
'Technology Membership' Has Its Privileges
As a company, Lelch Audio Video also sees the advantages of embracing recurring monthly revenue (RMR). The company has created what it calls "Technology Memberships" for its clients that include preventative service visits as well as remote systems management. The membership includes a certain amount of onsite time, along with the remote support.

Not all installations qualify to be even offered a Technology Membership, however. The project must meet certain equipment parameters, have been installed with a certain set of best practices, and have remote management systems in place. Because Lelch AV routinely takes on smaller jobs like simple TV mounting, as well as takeover projects, currently about 65 percent to 70 percent of its jobs are eligible to be offered a Technology Membership. And of those qualified projects, Lelch AV is able to sign up about 80 percent of the eligible candidates.

The cost of a Technology Membership varies based on the complexity of the system, but Lelchuk says he earns on average about $1,000 per year per project for a service plan. It adds up to solid RMR for the company and stronger relationship with the customer.

"We believe service is the ultimate thing that you want to strive for in this industry, and you accomplish that by properly designing systems, properly integrating them, properly setting expectations, so on and so forth. The end result is you are able to properly service projects and give people the true experience that they deserve," says Lelchuk.

"The days of being able to receive a service call on a Friday or Saturday night, and not resolve it until the following Tuesday or Wednesday are over. That is just bogus for this day and age. I think that speaks to that Millennials' expectation of things being instant. I am absolutely a believer of that."

No video selected.