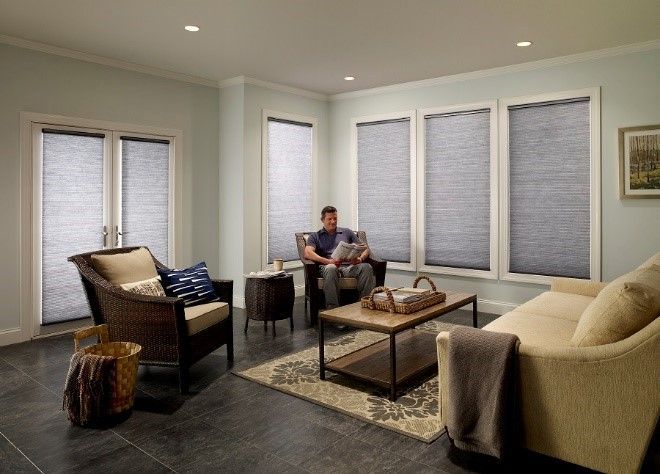 5 Powerful Ways Motorized Shades Can Transform Your Home
For something so innocuous in our everyday lives, your window shades play a significant role in your daily routine. How and when your shades are drawn can have a dramatic impact on your home's energy efficiency and help keep you safe.
However, these are just two of the myriad ways motorized shades can improve and simplify your life. Today we'll be looking deeper into those benefits while also exploring other ways motorized shades can benefit homeowners in Qualicum Beach, BC.
SEE ALSO: HOW TO FIND THE RIGHT MOTORIZED SHADES FOR YOUR HOME
INCREASED CONVENIENCE USING HOME AUTOMATION
The most obvious benefit of motorized shades is the added convenience. The ability to control your shades with your phone or another device, without having to deal with cords and drawstrings, is much easier than adjusting each shade manually. If you use automated schedules, you can have your shades lower and raise by themselves according to the position of the sun, so you theoretically never have to touch your shades again.
Motorized shades also make for ideal solutions for windows in hard-to-reach areas. Instead of having to get a ladder and risk life and limb to reach that high window, just press a button and watch the shade adjust itself. This increased convenience also makes motorized shades a welcome addition for people with physical disabilities or other conditions that may make manual adjustments difficult.
INCREASED GREATER SECURITY FROM SMART TECHNOLOGY
Your window shades, whether you know it or not, also play a major role in keeping your home secure. Drawn shades hide your valuables from view and prevent people from seeing when you're away. If your shades are lowered for too long, however, they can be a signal that nobody's home.
Motorized shades take advantage of home automation to combat security concerns like these. For everyday use, set your shades on a timer so they lower when you leave home and rise when you return. When you're on vacation, you can set your shades to raise and lower in different areas throughout the day, giving the impression that someone's still home. And if you ever forget to set a timer or trigger a system preset, you can make any adjustments you like from your phone.
A MORE EFFICIENT HOME USING HOME AUTOMATION TECHNOLOGY
If you're looking to lower your carbon footprint or simply slash your energy bills, motorized shades are a must-have. Whether it's the heat of summer or the cold dark of winter,your shades can adjust themselves for maximum effectiveness using temperature sensors and the angle and position of the sun.
Many motorized shades also block UV rays, which helps regulate the temperature in your room as well as protect your belongings from sun damage. And for even greater efficiency, link your shades with your broader automation systems and watch as they make adjustments based on the outside weather and other factors.
KEEP YOUR PRIVATE LIFE PRIVATE USING SMART HOME SOLUTIONS
Sunlight isn't the only thing motorized shades keep out. If you've ever worried about prying eyes trying to see inside, these shades are what you're looking for. As we've mentioned previously, one of the best ways to use motorized shades is to set up automated schedules. That way, your shades can set themselves and keep your home life private without you having to do a thing after the initial setup process.
And because motorized shades can fit in otherwise inconvenient areas, you can ensure total privacy by covering every window. For those occasions when you do need to make a quick adjustment, it's much easier to do so from your phone than by hand.
FEWER SAFETY HAZARDS FOR CHILDREN
It's an unpleasant fact, but dangling cords from blinds and shades are a major health hazard for children, particularly infants and toddlers. The Consumer Product Safety Commission has reported that one child between 7 months and 10 years of age dies from window cord strangulation every month.
Motorized shades eliminate this type of health hazard. There are no cords to potentially become wrapped around a child's neck, and the electronic components are typically discretely encased in the shades' end brackets. Without cords to become entangled in or electric wires to worry about, your children and pets are safe from harm.
Motorized shades have much to offer homeowners, which makes today the perfect day to get started on adding them to your home. To learn more about our motorized shade solutions, fill out our online contact form, click on the chat box in the corner of your browser, or call us at 250-248-5382.